I did have
grand plans
to make my first ever BurdaStyle attempt the One Dot Dress, but when I read the instructions a little better I realised that I didn't have a double stitch needle and even if I did, I wasn't sure where the second spool would sit on my sewing machine.
Due to my general impatience, I put that one in the 'think-about-it-later' pile and instead decided on pattern 114 from the 5/2010 issue, a
tiered mini dress
.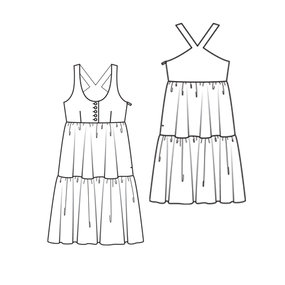 As you can see, it's a great summer dress and Burda had it made up in a really nice Liberty print.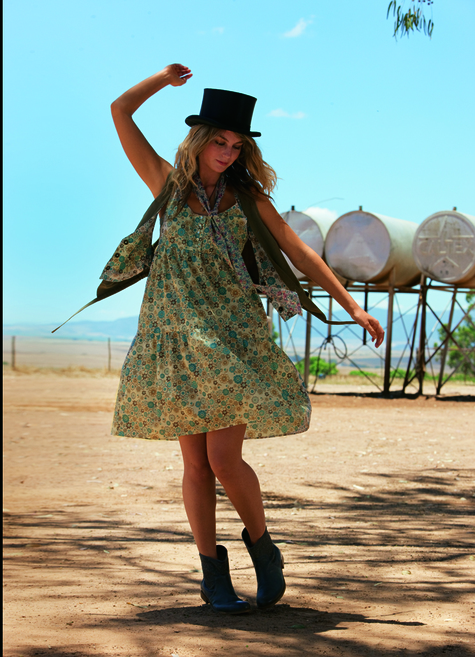 Photo courtesy of burdastyle
Seeing as quite a few people have said that Burda patterns aren't the easiest to follow, I wasn't going to splurge on expensive material and instead picked up some similarly patterned cotton from Spotlight.
After a bit of confusion around how the front buttonholes were supposed to work, I managed to figure it out:
The finished product (slightly crinkled)
I have to say that I was a little disappointed initially that the dress looks a little pregnant-y, but it's nothing a high-waisted belt won't fix. You just don't notice it too much on the Burda model since they've shown an action shot.
Perhaps it's my choice of material but I think that the darker material has taken a bit of the summer-y feel away from the dress.
Front and back.
Also not too sure about the cross-back - I have a sneaking suspicion that it might make most people look like they have swimmers' shoulders - but that aside, this design means that normal bras can't be worn without having the straps fully exposed. Not a great look.
As I mentioned, I wasn't sure what I was supposed to do with the buttonholes so I figured since the design had an invisible zip right up one side (talk about
zipper foot issues
!), the dress front didn't actually need to button up, so I ladder stitched the 2 front sections together and sewed on 3 buttons just for appearances. This bit probably took me almost as long as it did to sew up the rest of the dress!
Fake buttons
Overall I'm pretty happy with the dress for a first attempt but I wouldn't mind making a better version of this, with just one front section for the bust and removing the cross back. I've also found that the skirt section is very see-through as it isn't lined, so that might be something to consider next time.